Hi everyone !
It's a real thrill being able to share a tutorial on the Tim Holtz Blog : Here.

This home decor project that was good fun to make. If you'd like to see how I used Distress Glitter, this is the project for you and perhaps you'll be able to find ideas there !


Thank you for dropping by !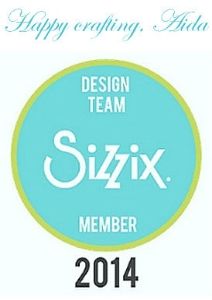 Hello everyone !




This is Stasha, and it's her Freshmen year at the Yong Siew Toh Music Conservatory at NUS. The one thing I know, as a scrapper, when we have good photos and wonderful products, inspiration is immediate ! I love this Emporium collection by Teresa Collns, the soft browns and dusky pinks are a perfect combination.

Below are the details :


Let's talk about scrapping style a bit .........

This layout is really *me* now. I have to admit it took a long journey to get to this style, and right now as far as layouts are concerned, it's what I do best, usually very quickly and enjoy tremendously. Good photos are important, so are pretty products that suit my style. There have been past instances when I've had to use supplies that were so different and beyond what I would've chosen myself, very challenging ....... and subsequently the work produced was unsatisfactory (to me anyway ....) !
The one thing I've realised in Singapore is : clean and simple layouts seem to get a bad rep as classes, they are considered less value for money because they look so simple to do. People will not pay for classes that teach balance and proportion, which is essentially what clean layouts are about. Contrary to the the usual opinion, clean layouts do require skills, especially knowing how to work with *white space*, knowing how to stop from adding too much, how to create interest, even texture to the layouts, learning how to create with current and trendy products.
I've had scrappers who seem stuck in a time warp ....... they feel helpless when it comes to using current products in the stores like enamel dots, insta-photo frames, the tags, envelopes, glitter paper and the colour gold. Consequently, they scrap in styles that feel dated and often heavy.

This is not a criticism, I would never ever say a scrapping style is wrong.
What I am saying is, no matter your style ........... update it. Using new products that have come out is so much fun. Not knowing how to adapt them to your style means you are losing out on new skills, a fresh way of creating, more exciting ways of being inspired.

Hope your week has been good !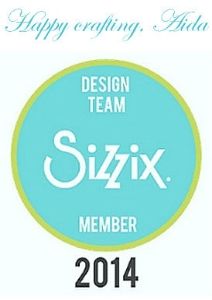 I'd like to say the biggest thank you to everyone who left messages for me here as well as in Facebook, it truly meant so much ! Reading through them all made me feel unbelievably lucky that people like you took the time to comment and that all the work over the years was worth it.
Someone asked me in the store how does one get on any Design Team and honestly, the only SURE thing I know is to do *consistent good work*, be reliable, importantly, shore up your product knowledge and the truth : the number of Teams you are on doesn't necessarily translate to quality work. How can one do quality work when deadlines are coming at you fast and furious ? It's a sure inspiration killer.
Crafting has been my longest addiction and I am looking forward to a renewed creative direction.


On the Sizzix Blog is a Shabby Mailbox, I hope you will drop by to look at it ! Click here : Sizzix US




I'll see you soon !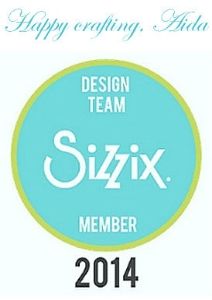 Hi everyone !!

I've been sitting on this for the last few weeks and finally it is OUT !!






Paper crafters the world over would know about the Tim Holtz brand across Ranger. Sizzix, Stamper's Anonymous and Idea-ology. The fabulous projects created by Tim and his team of Designers for shows have always been stunningly original with their use of mediums and products.
To be on the Tim Holtz Media Team has been a much hoped for wish, but NEVER in my farthest imagination did I even think it would ever happen. Thank you so much Tim, it is still a surprise, still pinching myself and over the moon thrilled at this chance to work with you ! You might already know that Tim has a wonderful dedicated BTS (behind the scenes) team in Mario Jossi, Paula Cheney, Richele Christensen and Tammy Tutterow. I've been fortunate enough to have worked under Tammy who was a Team Leader before and am so happy for this chance again

Also on the team are :

Anna-Karin Evaldsson

Emma Williams

Jan Hobbins

Mou Saha

Vicki Boutin

........ and right now we are all collectively screaming and hopping with excitement from our homes (or holiday locations) around the world !!
Thank you for coming by to look at my work. As the many wonderful paper-artists and creatives inspire me, I hope the work I do will in some ways help you make art for yourself !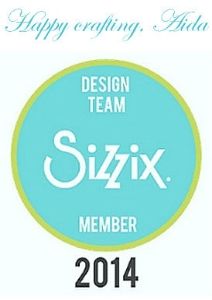 Hello everyone !
Today I have a project that's very much my style - a little vintage, with tone on tone colour, texture, metal embellishments and ephemera.




I've used Tim Holtz Idea-ology products as well as his Distress range from Ranger, and a stamp from Stampers Anonymous. Much of my work uses Sizzix and I LOVE working with Alterations Texture Fades Embossing Folders with the Harlequin folder being a favourite.
The base of this piece is canvas on which I applied Ranger's Texture Paste with a palette knife and randomly sprinkled Distress Glitter in Shabby Shutters. And then the edges were painted with a mix of Distress Paints Mustard Seed, Frayed Burlap and Black Soot.


Above you can see how the metal hardware from Idea-ology adds a grunge feel to counter the elegant harlequin design of the folder.




Buttons and vintage ephemera seem to find their way into all my projects !




I love embossing folders and the effect they create. There are so many ways to customise the final look and I've used a Tim Holtz Stampers Anonymous background stamp to make an interesting print on the harlequin embossed card stock.
First I swiped Distress Paint in Pumice Stone on the stamp, then with gentle pressure, stamp onto the card stock taking care not to get any paint on the recessed areas. The image you get will be slightly smeared, almost like worn away print. Clean your stamp immediately to stop the paint from drying in the crevices of the stamp. Completely dry the paint with a heating tool.
Next I stamped a second time over the paint using Archival Ink in Coffee which created another layer to contrast the paint.

Here is a close-up :




Here's the list of products :

Sizzix :
Alterations Texture Fades : Harlequin 657849

Idea-ology Metal Embellishments

The Distress Inks I used were :
Wild Honey
Dried Marigold
Frayed Burlap
Squeezed Lemonade

Distress paints :
Mustard Seed
Frayed Burlap
Black Soot

Distress Glitter :
Shabby Shutters

Ranger : Texture Paste


Can you believe how July whipped past ? It's August already !! Thank you for coming by this weekend and here's wishing you a smooth and productive craft-wise week ahead !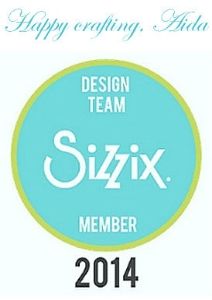 Hello everyone !

This is a 6x6 canvas that is really special to me. Stasha turned 22 and we are so thankful she is living the life she's passionate about. Currently with the Yong Siew Toh Music Conservatory, almost everyday she says she wakes up excited at the prospect of music, practicing on her bass guitar or Double Bass. Yes we know it's early days and the rigours of the academic year has not hit her yet, but we can imagine the happiness in finding her niche !




The 6x6 canvas was painted with an acrylic gold paint and then roughly slathered with texture paste. Once that dried I rubbed in Distress Paints in the colour Ripe Persimmon, Scattered Straw and Spun Sugar letting some of the gold underneath show. The next step I stamped randomly with the script background stamp from the Tim Holtz Stamper's Anonymous Papillion Set. Instead of ink, I used Ripe Persimmon Distress Paint which gave a less detailed, slightly smeared effect I was looking for. Remember to clean your stamp immediately after to prevent the paint from drying in the crevices of the stamp.

The die-cut Alterations Postage Stamp Frame 658572 is a favourite and it was used as a base to build on.




I loved using the Idea-ology Metal Adornments as they add so much tactile detail to any work with its feeling of permanence and strength. Here you see a Bookplate, a button, a crown and a wood letter S from the Idea-ology Wood Letterpress. Everything sits on a shelf made using a line of numbers from the Sizzix BingoTexture Fades Embossing Folder 656643.


There is always a metal word band with inspirational quotes that will suit your project and "Live the Life You've imagined" is so perfect for Stasha. You'll see that I used a Film Strip ribbon under the Postage Stamp Frame die-cut, and on the Lightbulb (sadly, discontinued) is the word Discover from the very useful Chitchat word stickers booklet.

This canvas project is a personal one for me. My aim is to share ideas for using metal embellishments with photos and hopefully you enjoyed looking at this canvas.
Thank you for stopping by !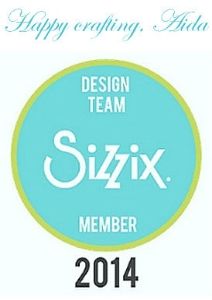 Products used :
Sizzix Alterations Postage Stamp Frame 658572
Sizzix BingoTexture Fades Embossing Folder 656643
Tim Holtz Stamper's Anonymous Papillion Set.


This Bigz Sizzix Owl #2 657694 die is a favourite, it's so darn cute and love the fact you can *dress* the owl in so many varieties !




Details like these glasses make the Owl pop.




I cut out the owl shape, 2 circles for the eyes, and the arms and beak (not shown).




For the bottom, I die cut only half of the owl using a patterned paper.




The Jen Long Retro Sunglasses 659508 were die cut using the SophistiCut and for the card, I trimmed away the center eye pieces.
A YouTube Video with Stephanie Barnard on how you use the SophistiCut is : HERE




I added the speech bubble from Marisa Pawelko's Thought Talk Bubbles 659688. The background white Bazill cardstock was embossed by using the Lattice Textured Embossing Folder 658483.

Assemble the Owl as you like with additions of the beak and more trims. There you go ...... an adorable card for someone special, so easy and fun !!
Sizzix products used :
Powder Blue Big Shot
SophistiCut
Extended Cutting plates
Bigz Sizzix Owl #2 657694
Jen Long Retro Sunglasses 659508
Marisa Pawelko's Thought Talk Bubbles 659688
Lattice Textured Embossing Folder 658483

Thank you so much for dropping by !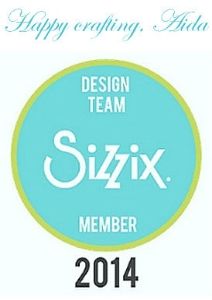 Hi everyone !

I'm on the Sizzix Blog with a card tutorial : HERE
The Thinlits Dies Overall Patterns 659758 below are wonderful and together with the Magnetic Platform, you will get clean, detailed die-cuts that are versatile for Project Life, layouts to cards.




Here's a close up of the Tattered Pinecone 657492 rolled up into a Tea Rose.




Have a great weekend !

Sizzix products used :
Magnetic platform
Thinlits Die Set 3pk Overall Patterns 659758
Tattered Pinecone 657492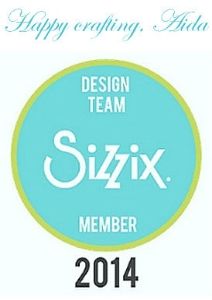 Hello scrappers !
This Gerbera-Daisy is so pretty and a good size at 3.5inches across. I used patterned paper for the die-cuts and Versa Craft inks to add color to the tips of the petals.




This is the Brenda Walton Gerbera-Daisy die : Here




Thank you fro dropping by, have a great weekend !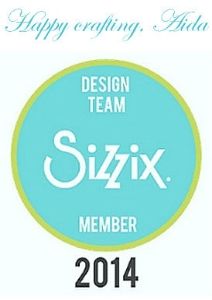 Hello Crafters !!

This canvas started with an idea we are all beautiful in ways others cannot imagine and how it's hard to prove to people we are worthwhile. We tend to admire those who are successful materially and forget that life is more than just having nice, expensive things.
In this project less is more, where simplicity just works. The
Tim Holtz Alterations Layered Butterfly Die and Embossing Folder 659578
is so pretty on its own it really does not need much else !
Here is the close up.
To begin, using white Bazill card stock I die cut the butterfly and then embossed it with the folder that came with the die.
I love working with Art Anthology paints and Las Vegas Gold Sorbet is my favourite ! For the butterfly I paired it with a Velvet paint in Orchid which is a sweet shade of lilac. Using a palette knife, gently spread the gold over the center of the butterfly making sure the paint gets into the recessed parts. Don't worry if it doesn't look perfect ! Dry completely with a heating tool. Next rub in the Orchid Velvet to the edges of the butterfly wings again making sure some of the paint is left in the recessed areas. Leave aside to dry.
To create a base for the butterfly, I trimmed a piece of white card stock 5 x 6 inches. The Tim Holtz Honeycomb Stencil was placed to the left of the card stock and a mix of Texture Paste and Orchid Velvet lightly spread over the stencil.
When dried, you will get this effect. I added strips of the tissue tape for more interest.
This project is on a 12 X 12 canvas which I had earlier painted with gesso and a little Orchid to create the palest lilac. After that dried, I speckled it with watered down Distress Paint Seedless Preserves which is a warm dark purple.
Next I frayed the edges of a small piece of Burlap to add to the top right edge of the base.
Here you can see how the layers were built. A button and the word Beautiful was adhered to the middle of the butterfly.
The journaling is from the song You are Beautiful.
This is how the assembled project looks - clean and (I hope) elegant !
Sometimes it's very easy to over work a project by adding more and more ..... learning how to stop can be a difficult process especially with mixed media. With each project I make, there's always more to learn and to accept that some pieces do not need more embellishments.
Have a wonderful week ahead!!